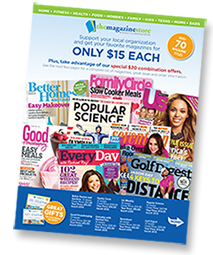 The Magazine Store Fundraising Program can help
your organization raise funds quickly and easily.

Key Benefits for organizations that need to raise money:

High profits — your group gets to keep up to 50% of the total sale!
Free Magazine Store fundraising catalogs
Your supporters can choose from over 70 of America's
best selling magazines
Good for new subscriptions or renewals!
Free prize for your top-selling members!
---
To receive more information about The Magazine Store Fundraising Program, please fill out the form below. One of our trusted distributor companies will respond to you shortly. Thanks!